Ingredients: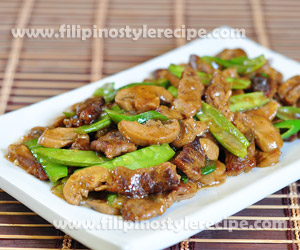 500 grams beef sirloin, slice thinly into serving pieces
1 cup sliced mushroom
15 pieces snow peas
1 onion, chopped
salt to taste
3/4 tablespoon cornstarch, dissolved in 4 tablespoons water
Asian Sauce:
1/4 cup soy sauce
1 thumb-sized ginger, grated
3 cloves garlic, minced
1/2 teaspoon ground pepper
Procedures:
1.In a pan, heat oil and beef then stir fry over high heat for 3 minutes or until light brown.
2. Add onion and mushroom then cook until beef is almost tender.
3. Add snow peas and Asian sauce then stir cook for a minute.
4. Add beef broth then simmer for another minute. Season according to taste.
5. Add dissolved cornstarch then cook the sauce thickens.
6. Transfer to serving plate then serve immediately with steamed rice.
Comments
comments
Powered by Facebook Comments