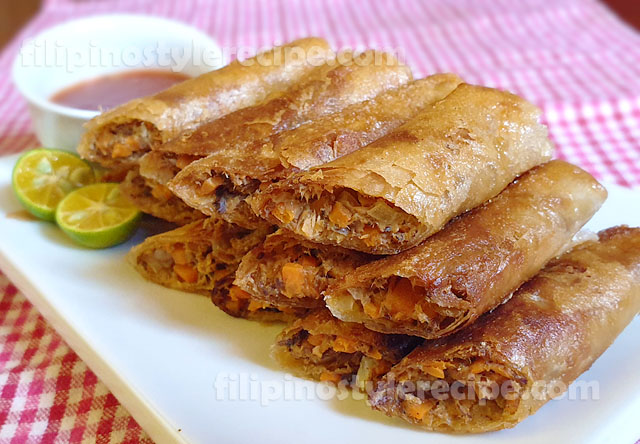 Ingredients:
2 small cans spicy sardines in tomato sauce
1 tablespoons flour
1 raw egg
1 red onion, minced
3 cloves garlic, minced
1/2 teaspoon soy sauce
1 small carrot, minced
3 stalks parsley, chopped
salt and pepper to taste
18-20 pieces lumpia wrappers
cooking oil for frying
Procedures:
Part 1
1. Using a strainer, drain sardines and reserve the sauce.
2. In a mixing bowl, combine sardines, flour, egg, onion, garlic, soy sauce, carrot, parsley, salt and pepper then stir while slightly mashing it using a pair of forks.
Part 2
1. Place 1 tablespoon of filling in a line shape at the middle of the wrapper.
2. Fold over the bottom edge of the wrapper to the center.
3. Fold the two sides towards the center and roll. Finally, use water of seal the lumpia completely.
4. Repeat until all wrapped up.
Part 3
1. In a frying pan, heat oil deep enough that wrapped lumpia is half-submerged.
2. When the oil is hot enough, deep fry lumpia for 5 minutes or until golden brown and crisp.
3. Drain on paper towel then serve with sweet and sour sauce.
Comments
comments
Powered by Facebook Comments