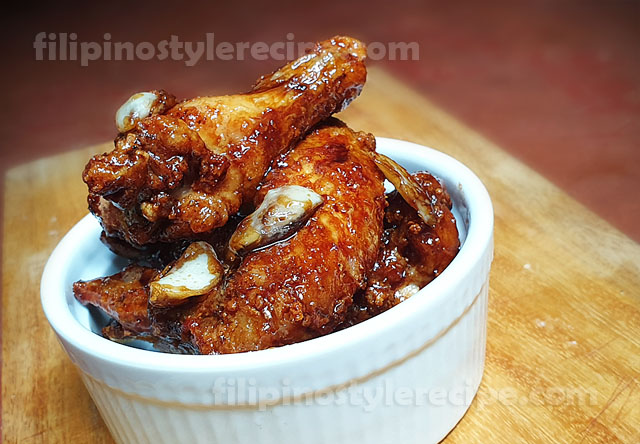 Ingredients:
8-10 pieces chicken wings, separate drumette from wing
2 cups flour
salt and ground pepper to taste
cooking oil for frying
1 teaspoon unsalted butter
3 cloves garlic, pounded
Teriyaki Sauce:
4 tablespoons teriyaki sauce
2 tablespoons oyster sauce
1 teaspoon brown sugar
2 tablespoons honey
1/2 teaspoon Spanish paprika
1/2 teaspoon ginger powder
Procedures:
Part 1
1. In a bowl, combine flour, salt and pepper.
2. Toss chicken then shake off excess.
3. In a frying pan, heat oil then fry chicken wings until golden brown. Drain and set aside.
Part 2
1. In a pan, melt butter then saute garlic.
2. Pour teriyaki mixture then stir and simmer until well combined.
3. Add chicken wings then toss until well coated.
4. Transfer to serving bowl then serve with steamed rice.
Comments
comments
Powered by Facebook Comments