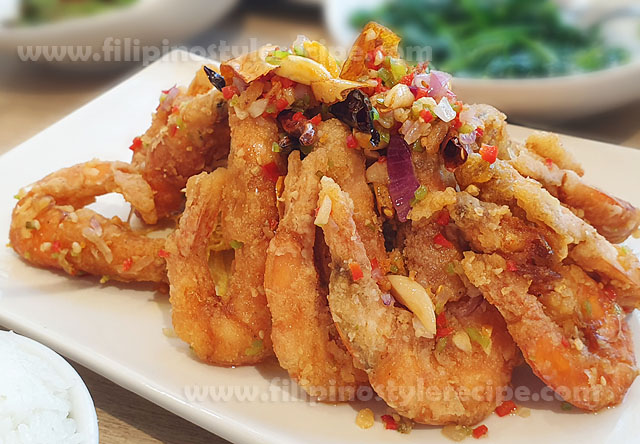 Ingredients:
1 kilo large shrimps, cleaned
1/2 cup butter
12 medium cloves garlic, pounded and chopped
1 large onion, chopped
1 red bell pepper, chopped
1 raw egg, beaten
1/2 cup cornstarch
3 cups vegetable oil
salt and pepper to taste
Procedures:
Part 1
1. In a wok, melt the butter in a low heat.
2. Pour 2 tablespoons oil then saute garlic, onion, and bell pepper for 5 minutes. Transfer to large bowl.
Part 2.
1. Clean the wok with paper towel.
2. Pour remaining oil then heat over medium heat.
3. Meanwhile, In a bowl, combine egg and cornstarch.
4. Add shrimp and toss until well coated.
5. Drop each shrimp into hot oil then cook 2-3 minutes or until crisp.
6. Drain to paper towel then transfer to garlic-butter mixture.
7. Season with salt and pepper then toss to coat. Serve immediately.
Comments
comments
Powered by Facebook Comments