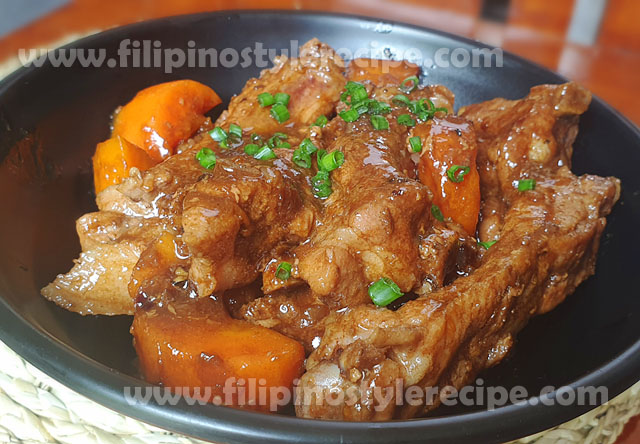 Ingredients:
1 kilo pork spareribs, cut into serving pieces
2 pieces carrots, cut into serving pieces
2 cups Coca-Cola (or just enough to cover the meat)
2 tablespoons soy sauce
2 tablespoons oyster sauce
1 onion, chopped
2 tablespoons cooking oil
chopped spring onions for garnishing
salt and pepper to taste
Procedures:
Part 1
1. In a cooking pan, heat oil then saute onion until transluncent.
2. Add spareribs then continue sauteing until light brown.
3. Pour coca cola, soy sauce and oyster sauce then simmer over low heat for 30 minutes or until tender. Add water if necessary.
4. Add carrots then cook for another 5 minutes. Adjust seasoning according to taste.
5. Transfer to serving plate then sprinkle with spring onions. Serve with steamed rice.