Filipino Style Recipe: Calamansi Muffins is another thick, soft, and sour pastry made from flour, baking powder, milk, sugar, salt and calamansi juice. The muffins is ideal to serve with coffee or as meryenda (mid-afternoon snack).
Estimated time of preparation: 20 minutes
Estimated time of baking: 20 minutes(plus chilling time)
Good for 18 muffins
Ingredients: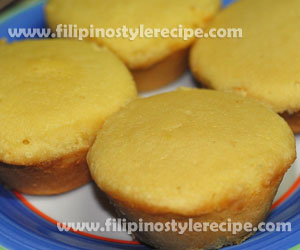 1/2 cup butter, softened
1 cup white sugar
2 raw eggs
1/4 teaspoon vanilla extract
Wet Mixture:
¼ cup milk
¼ cup calamansi juice
Dry Mixture:
1 1/2 cup flour
1 teaspoon baking powder
1/4 teaspoon salt
Procedures:
Part 1
1. In a bowl, combine flour, baking powder and salt then mix until well blended.
2. In a separate bowl, combine milk and calamansi juice then stir well.
Part 2
1. In a mixing bowl, whisk together the butter, sugar and vanilla extract until just blended.
2. Add egg one at a time then whisk well.
3. Add half of dry mixture and half of wet mixture then mix until blended.
4. Repeat the procedure until all the mixture are consumed.
Part 3
1. Prepare muffin pan by brushing with butter and sprinkling with flour.
2. Pour the filling into muffin pan then bake in a preheat oven over 350 degrees Fahrenheit for 20 minutes or until center springs back when touched.
3. Remove from oven and let it cool for 5 minutes before removing from the pan.. Serve.