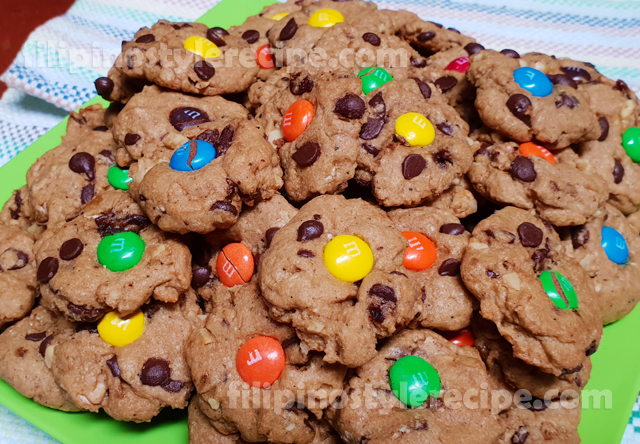 Ingredients:
3/4 cup melted butter
1 cup white sugar
1 cup brown sugar(packed)
2 large eggs
2 teaspoons vanilla extract
1 teaspoon baking soda dissolved in 2 teaspoon hot water
1/2 teaspoon salt
3 cups all purpose flour
1 1/2 cup chocolate chips
M&M's chocolate candies for toppings
Procedures:
1. In a mixing bowl, cream butter and sugar using electric mixer for 3 minutes or until smooth. Beat in the eggs, one at a time. Add the vanilla, baking soda mixture and salt then mix until well combined.
2. Add the flour to the mixture then mix using a spatula. Fold in 1 cup of chocolate chips.
3. Drop large spoonful of batter into ungreased pan then top with remaining chocolate chips and M&M's chocolate candy.
4. Bake in preheated oven for 10 minutes at 350 degrees Fahrenheit. Remove from the oven, let it cool before removing from the pan.