Banana split is an ice cream-based dessert that served in a long dish called boat. This is one of the best dessert and popular around the world.
Estimated Time of Preparation: 10 minutes. Good for 1-2 person
INGREDIENTS: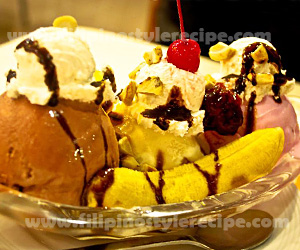 1 banana, sliced lengthwise
1 scoop each vanilla, chocolate and strawberry ice cream
marshmallow creme(optional)
whipped cream(optional)
strawberry syrup
chocolate syrup or hot fudge
cherry
nuts,chopped
PROCEDURES:
1. Place banana slices in a long skinny ice cream bowl.
2. Top with scoops of ice cream(vanilla, chocolate and strawberry).
3. Pour chocolate syrup on vanilla ice cream.
4. Pour strawberry syrup on strawberry ice cream.
5. Pour marshmallow creme on chocolate ice cream.
6. Top each with whipped cream.
7. Sprinkle with nuts
8. Top each with a cherry.
Notes:
1. Low-Fat Frozen Yogurt may use instead of whipped cream.
2. You may also use strawberry instead of cherry.
3. Caramel syrup is a good alternative for marshmallow creme.
4. Adding waffle stick like stick-O or sliced peaches makes your dessert much special.
3. Some added marshmallow, pineapple tidbits, pecans, choc bits and mini M&Ms bits as toppings.