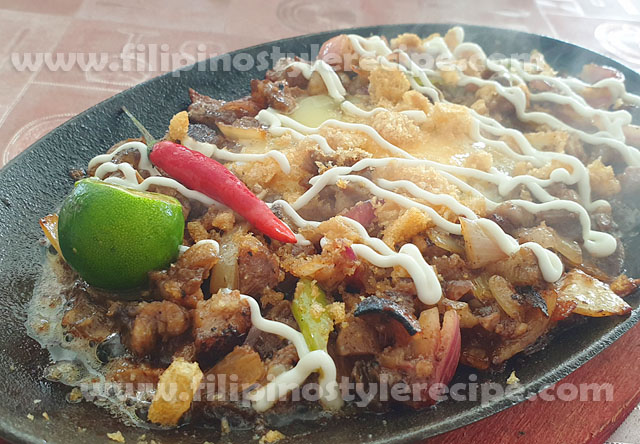 Ingredients:
1 kilo pork meat(combination of cheek, ear and snout)
200 grams chicken liver
1 cup pineapple juice
1/2 cup butter
1 cup onion, minced
3 gloves garlic, crushed
3-4 chili hot peppers(siling labuyo), seeded and chopped
3 tablespoons soy sauce or liquid seasoning
3 tablespoons mayonnaise
2 pieces bay leaves
1 teaspoon salt
1 teaspoon peppercorn
1 teaspoon ground pepper
4-5 pieces calamansi
crushed chicharon(optional)
1 raw egg(optional)
Procedures:
Part 1
1. In a pot, combine pork meat, garlic, bay leaves, salt and peppercorn.
2. Pour pineapple juice and water enough to cover the meat, simmer for 40 minutes or until tender. Drain.
Part 2
1. Grill over hot charcoal until crisp and browned.
2. Slice the pork cheeks and ears into small pieces. Set aside.
Part 3
1. In a pan, melt butter then saute ginger and onions.
2. Add chicken liver, crush the liver while cooking until tender.
3. Add chopped pork cheeks and ears and stir fry for 5 minutes.
4. Add chopped chili, soy sauce, ground pepper and mayonnaise. Mix well.
5. Transfer to sizzling plate, add raw egg and crushed chicharon on top. Serve with calamansi. Done