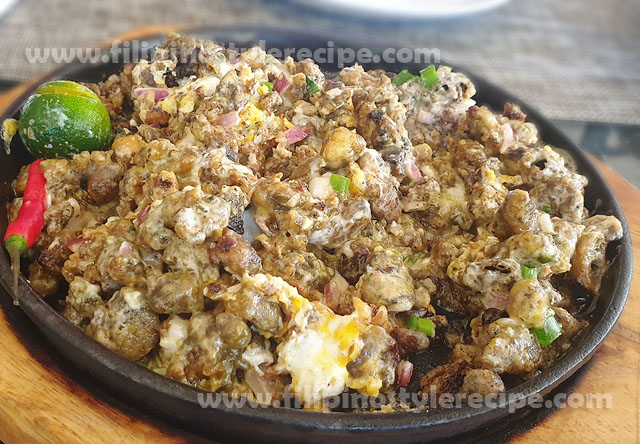 Ingredients:
1 kilo oysters
5 gloves garlic, minced
3 onions, chopped
3-5 red hot chili(labuyo), chopped
1/2 cup cornstarch
1 raw egg, beaten
1/2 cup butter
salt and pepper to taste
3 tablespoons soy sauce or liquid seasoning
1 small green bell pepper, chopped into small pieces
3 tablespoons mayonnaise(optional)
4-5 pieces calamansi
1 raw egg (optional)
Procedures:
Part 1
1. In a bowl, combine cornstarch, salt and pepper.
2. Dip oysters on beaten egg then dredge with cornstarch mixture.
3. In a pan, heat oil and fry coated oysters for 5 minutes or until colors turn to golden brown.
4. Drain on paper towel. Set aside.
Part 2
1. In a pan, melt butter then saute garlic and onions.
2. Add fried oysters, liquid seasoning, ground pepper, bell pepper, chili and mayonnaise. Mix well.
3. Transfer to sizzling plate, serve with calamansi. Done