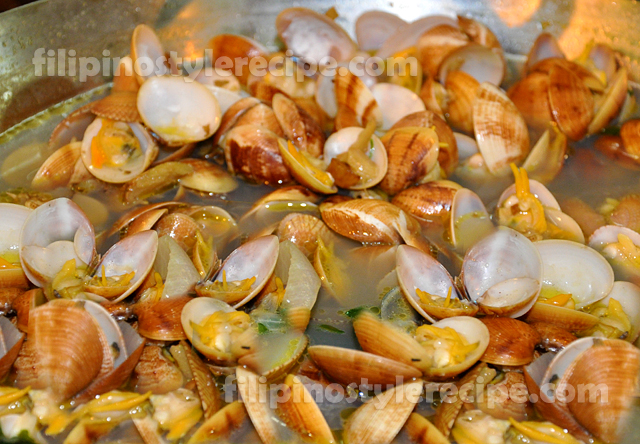 Ingredients:
1/2 kilo fresh clams(halaan)
1 tablespoon vegetable oil
1 onion, sliced
2 thumb-sized ginger, finely sliced
3 cloves garlic, minced
4 to 6 cups water, add more water if necessary
patis (fish sauce) to taste
ground black pepper to taste
chili leaves(dahon ng sili)
Procedures:
Part 1
1. Wash the clams thoroughly and drain.
2. Place the clams in a bowl with water and salt.
3. Cover for several hours or overnight. This will allow the clams to expel sand.
Part 2
1. In a pot, heat oil and saute ginger, union and garlic.
2. Pour water then bring to boil. Season with fish sauce and pepper.
3. Add clams then simmer for another 3 minutes or until shells are opened. Discard shells that did not open.
4. Adjust seasoning according to taste.
5. Add chili leaves and simmer for 2 minutes.
6. Remove from heat then serve.