Ingredients: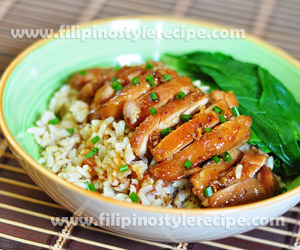 500 grams chicken thigh fillet
6 tablespoons honey
1 tablespoon grated ginger
1 tablespoon lemon juice
1/4 cup water
2 tablespoons soy Sauce
1 teaspoon Sesame oil
2 tablespoons vegetable oil
salt and pepper to taste
chopped spring onions for garnishing
a bunch of bok choy, steamed
Procedures:
Part 1
1. In a bowl, marinate chicken thigh in soy sauce and sesame oil for 30 minutes.
2. In a separate bowl, combine honey, ginger, lemon juice and water. Mix well.
Part 2
1. In a pan, heat oil then fry chicken until light brown.
2. Pour the sauce, salt and ground pepper then simmer until reduced and thickens. Turn off the heat.
3. Chop chicken thigh into serving pieces.
4. Serve as rice toppings together with steamed bok choy.
5. Drizzle with remaining sauce and sprinkle with spring onions. Serve hot immediately.