Filipino Style Recipe: mais con yelo is another sweet and refreshing beverage. This beverage is made of corn kernels, milk, sugar and cubed ice. Mais conyelo is an easy Filipino meryenda(mid-afternoon snack) that is commonly sold along the streets and usually served during summer season.
Estimated time of preparation: 5 minutes
Ingredients: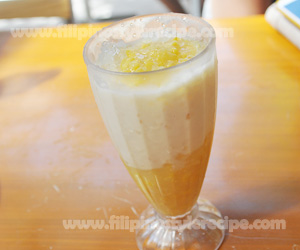 corn kernels
evaporated milk
sugar or condensed milk
shaved ice
corn flakes or crispy pinipig(optional)
Procedures:
1. In a tall glass, put 2 tablespoons of corn kernels
2. Add 1 tablespoon sugar then add shaved ice.
3. Pour 1/4 cup of evaporated milk then top with 1 tablespoon corn kernels.
4. Sprinkle with corn flakes then serve chilled.