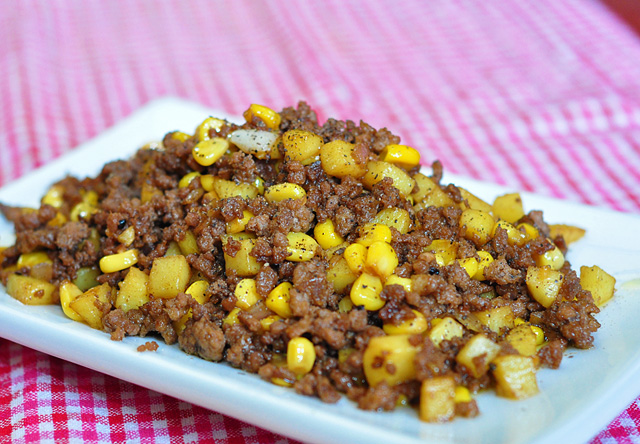 Ingredients:
400 grams ground beef, wash and drain
1/2 cup corn kernels
2 tablespoons finely chopped white onion
1 teaspoon minced garlic
1/2 teaspoon freshly crushed/ground black pepper
1 tablespoon cooking oil
1/4 cup butter/margarine
4 tablespoons soy sauce
2 tablespoons oyster sauce
1/4 cup honey
1/4 cup water
a dash of salt
1 teaspoon freshly crushed/ground black pepper (Garnishing)
Procedures:
Part 1
1. In a pot, cook ground beef until almost dry. Add oil then melt butter.
2. Add garlic and onion then stir cook for another 2 minutes.
3. Add corn kernel, soy sauce, oyster sauce, water, honey, salt and ground pepper then cook for another 5-7 minutes.
4. Adjust seasoning according to taste.
5. Transfer into serving plate then sprinkle with black pepper.
6. Garnish with spring onions. Serve hot immediately.