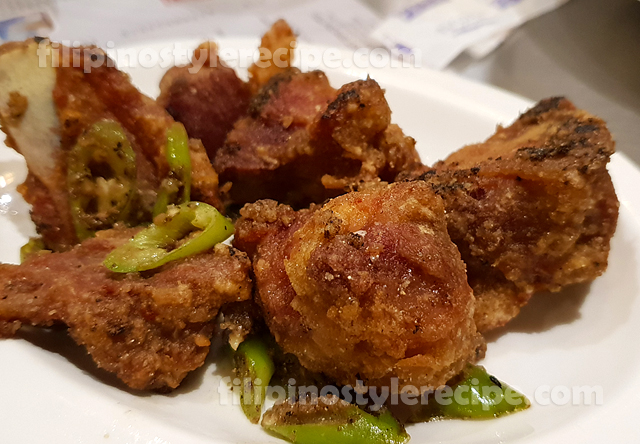 Ingredients:
1 kilo pork ribs, cut into serving pieces
4 cloves garlic, minced
1 onion, chopped
2 green chili peppers(siling haba), sliced
1 red chili pepper, chopped
salt and grind pepper
cooking oil for frying
Marinade:
2 teaspoon salt
2 teaspoons sesame oil
1/2 teaspoon five-spice powder
2 tablespoons rice wine
Coating:
1/2 cup cornstarch
1/2 teaspoon black pepper, grind
1/2 teaspoon five-spice powder
Procedures:
Part 1
1. In a large bowl, combine marinade then add ribs, marinate for 2 hours inside the fridge.
2. Add coating then toss until well coated.
Part 2
1. In a deep cooking pot, heat oil then deep fry ribs for 5 minutes or until golden brown. Remove and drain.
Part 3
1.In a pan, heat oil then saute garlic, onion, and chili over low heat. 2. Add fried ribs the toss to combined. Adjust seasoning with salt and pepper according to taste. Remove from heat and serve.