Filipino Style Recipe: Honey Pepper Beef is a simple yet mouth-watering beef dish consisting of thinly sliced beef stir fried until tender and light brown. Serve with honey sauce and corn kernels then sprinkle with freshly crushed black pepper.
Ingredients: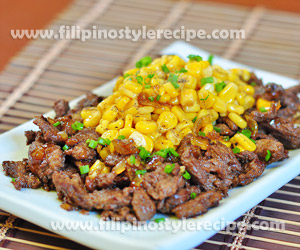 400 grams beef sirloin/tenderloin, thinly sliced
1/4 cup corn kernels
1/2 teaspoon freshly crushed/ground black pepper
1 tablespoon cooking oil
1/4 cup butter/margarine
2 tablespoons spring onions
Marinade:
2 tablespoons soy sauce
1 tablespoons oyster sauce
1/2 teaspoon freshly crushed/ground black pepper
1 teaspoon sesame oil
Honey Sauce:
1/4 cup honey
1/4 cup water
2 tablespoons soy sauce
1 tablespoon oyster sauce
1 tablespoon olive oil
2 tablespoons finely chopped white onion
1 teaspoon minced garlic
1 teaspoon cornstarch
a dash of salt
Procedures:
Part 1
1. Pat dry beef then marinate for at least 15 minutes. Set aside.
Part 2
1. In a sauce pan, combine honey sauce mixture then simmer for 3 minutes(keep stirring) or until thicken. Keep warm and Set aside.
Part 3.
1. In a pan, melt butter then stir cook corn kernels for 3-5 minutes. Remove and set aside.
2. In a same pan, stir fry marinated beef over medium heat until dry and light brown. Add remaining butter then turn off heat.
Part 4
1. Transfer stir fried beef into serving plate then top with corn kernels.
2. Sprinkle with black pepper then drizzle with honey sauce.
3. Garnish with spring onions. Serve hot immediately.