Filipino Style Recipe: Ensaladang talong or Cabbage salad is another easy and simple salad that usually served as side dish. It is consists of branch cabbage toss with tomatoes and onions then serve with fermented fish sauce or toyo-mansi.
Estimated time of preparation and cooking: 20 minutes
Good for 3-4 persons
Ingredients: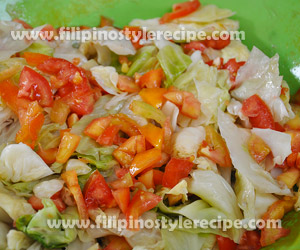 1 small size cabbage, cut into seving pieces
4 medium size tomatoes, chopped
1 large size white onion, chopped thinly
3 tablespoons fermented fish sauce (bagoong isda)
2 tablespoons vinegar
Procedures:
Part 1
1. Blanch cabbage in a boiling water for a minute, Drain and set aside.
Part 2
1. In a large bowl, toss cabbage and other ingredients.
2. Refrigerate until ready to serve.