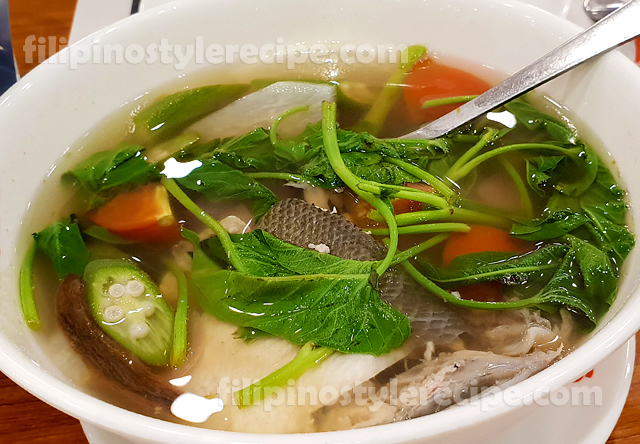 Ingredients:
3/4 kilo bangus belly, cut into serving pieces
6 tamarind(sampaloc) or 1 pack(22grams) sampaloc mix
8 cups water or rice washing
3 pieces tomatoes, quartered
1 onion, chopped
1 medium-sized white radish(labanos), peeled and sliced
4-5 pieces okra, cut diagonally
2 pieces green pepper(siling haba)
1 bundle kangkong leaves or sweet potato leaves
Salt or Fish Sauce(patis) to taste
Procedures:
Part 1
1. In a pot, pour water and add onion and tomatoes. Bring to boil.
2. Add bangus belly, cook and simmer for 10 minutes.
3. Add tamarind juice or sampaloc mix, bring to boil.
4. Add vegetables then simmer for 5 minutes. Add kangkong leaves.
5. Season with salt or fish sauce according to taste.
6. Serve hot.