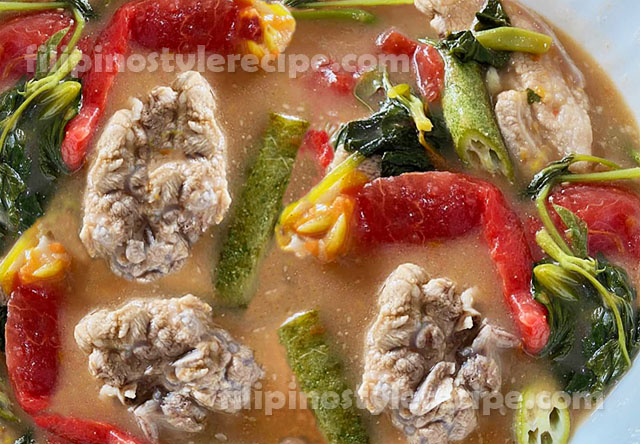 Ingredients:
1 kilo pork ribs, cut into serving pieces
12 tamarind(sampalok) Or sampaloc mix
1 big onion(diced)
6 tomatoes(quartered)
1 regular sized watermelon, peeled, seeded, sliced
6 pieces okra, cut diagonally
1 bundle of stringbeans(sitaw), cut into 2 inches long
1 bundle of river spinach(kangkong leaves)
4 pieces taro(gabi), peeled and cut into cubes
Salt and Fish Sauce(patis)
2 litres of water
Procedures:
Part 1
1.Boil tamarind, pound and strain the juice. Set aside.
Part 2
1. In a casserole, add pork ribs, onion and tomatoes to boil until tender.
2. Add tamarind juice, watermelon and gabi, continue simmering for 30 minutes or until gabi is tender.
3. Add okra and string beans then simmer for another 5 minutes.
4. Season with salt or fish sauce according to taste.
5. When tender, add kangkong leaves then serve hot immediately.