Filipino Style Recipe: ground beef soft tacos is a popular Mexican food that is commonly serve along the street. This is simple yet complete dish made of soft flour tortillas fill with ground beef, pico de gallo, sour cream and cheese. I got this idea when I was invited for a dinner in Mexican restaurant somewhere in Makati.
Estimated time of preparation: 10-15 minutes
Estimated time of cooking: 15-20 minutes
Good for 8-10 tortillas
Ingredients: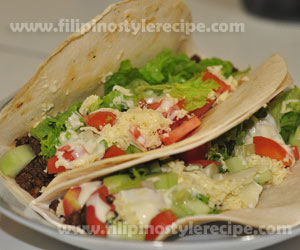 500 grams ground beef
1 pack taco seasoning mix
10 pieces soft taco flour tortillas
1 cup water
1 cup tomato sauce
2 cups lettuce, chopped
1 cup sour cream
1 cup cheddar cheese, shredded
Pico de Gallo:
2 pieces white onion, chopped
2 pieces cucumber, diced
2 pieces tomatoes, diced
1 green chili(jalapeno), diced
Procedures:
Part 1
1. In a pan, heat oil then add ground beef and cook until brown.
2. Add onions, taco seasoning mix, water and tomato sauce.
3. Stir and simmer until almost absorb and start to render oil. Keep warm and set aside.
Part 2
1. In a hot dry pan or microwave, heat tortillas for a few seconds.
2. Fill each tortilla with ground beef, lettuce, pico de gallo, sour cream and shredded cheese.
3. Repeat for remaining tortillas then serve. Enjoy!