Filipino Style Recipe: Spicy Buffalo Wings are considered as an American dish. It is traditionally fried unbreaded and then coated in sauce. The classic buffalo style chicken wings is composed of vinegar-based cayenne pepper hot sauce and butter.
Estimated time of preparation and cooking: 30 minutes. Good for 3-5 persons.
INGREDIENTS: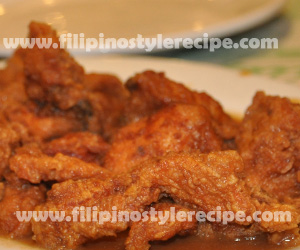 For Breading Mix
1 kilo chicken wings, tips removed
1 cup Flour
1 tablespoon Paprika
1 tablespoon Cayenne Pepper
1 tablespoon Salt
1 tablespoon Ground Pepper
1 tablespoon Thyme(optional)
For Buffalo Sauce
3/4 cup Hot Sauce
1/4 cup Brown Sugar
1/2 cup Butter or margarine
1 tsp Ground Pepper
2 tsp Garlic Powder
1 tsp Cayenne Pepper(optional)
2 tbsp Honey(optional)
For Cheese Dip(optional)
1/2 cup Mayonnaise
1 tablespoon Garlic Powder
2 tablespoon Cheese Spread
2 tablespoon Parmesan Cheese
1/2 teaspoon ground black pepper
Procedures:
Part 1
1. In a small bowl, combine all the ingredients for breading mix.
2. Coated the wings with the breading mix evenly.
3. In a deep pan, heat enough oil to cover the wings entirely.
4. Fry wings for about 8-10 minutes in medium heat or until color turns to golder brown.
5. Drain and set aside.
Part 2
1. In a small pan, heat butter in a low heat until melted.
2. Add all the remaining ingredients for buffalo sauce, stir well to keep it from curdling. Cook for 2-3 minutes.
3. Place the fried chicken wings in a large bowl, add the buffalo sauce and mix until all the wings coated evenly.
4. Serve with celery sticks.
For Cheese Dip:
1. In a small bowl, combine all the ingredients for cheese dip.
Comments
comments
Powered by Facebook Comments