Filipino Style Recipe: Adobong pusit(squid adobo) recipe is another variant of Filipino Adobo. Adobo is a mixture of meat cooked in soy sauce and vinegar. This dish is versatile and flexible, the meat can be pork, chicken, squid or any other meat. Here is my recipe for adobong pusit, share and enjoy!
Estimated time of preparation: 10 minutes
Estimated time of cooking: 15 minutes
Good for 6-8 Persons
Ingredients: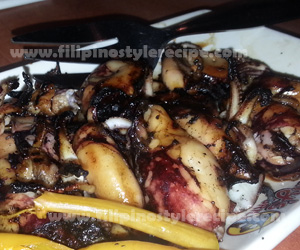 1 kilo medium-sized squid
1/4 cup vinegar
1/4 cup soy sauce
6 cloves garlic, minced
2 pieces bay leaves(laurel)
1 small piece of ginger, sliced
1 teaspoon sugar
1 tablespoon cooking oil
salt and pepper to taste
3 long green peppers(siling haba), chopped(optional)
Preparation:
Part 1
1. To clean the squid, pull the head and everything that comes along with it from the body tube, including the clear, hard bone.
2. Then push the head in, popping out the hard "beak" and discard it.
3. Rub off scrape with knife the outer skin under running water, leaving the white meat. (If the squid is small no need to rub off)
4. Wash the insides and the surface of the squid very well under running water.
Cut into rings if preferred. Set aside.
Part 2
1. In a pan, heat cooking oil then saute the ginger, onions and garlic.
2. Add the squids, pour in the vinegar and soy sauce.
3. Season with salt and ground pepper.
4. Add bay leaves and sugar.
5. Add long green peppers(optional).
6. Cook uncovered for about 5 to 8 minutes.(Don't overcooked the squid, it will become rubbery texture and tough.)
7. Remove from heat, serve and enjoy!
Comments
comments
Powered by Facebook Comments