Filipino Style Recipe: buttered shrimp with garlic recipe is a tasty Filipino dish, basically shrimp sauteed in butter with lots of garlic and the lemon soda gives the dish the sweet taste flavor. This is another mouth-watering dish that is truly enjoyed by most Filipinos.
Good for 4 persons.
Ingredients: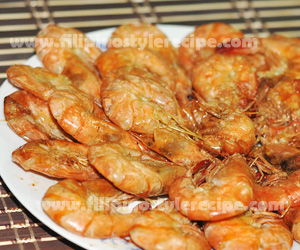 3/4 kilo shrimp
1/2 cup butter
12 medium cloves garlic, minced
1 can lemon soda
2 teaspoons salt
1/2 teaspoon ground pepper
2 tablespoons chopped parsley, for garnish(optional)
Procedures
Part 1
1. In a bowl, marinade the shrimp in lemon soda for about 20 minutes.
Part 2
2. In a saucepan, melt the butter in a low heat.
3. Saute the garlic until the color turns light brown.
4. Add shrimp including the marinade sauce, cook until the liquid completely absorb.
5. Adjust seasoning with salt and ground pepper
6. Remove from heat and arrange the buttered shrimp on a serving platter.
7. Garnish with parsley, serve and enjoy!
Comments
comments
Powered by Facebook Comments