Filipino Style Recipe: ginataang sitaw at kalabasa recipe or string beans and squash in coconut milk is a simple yet tasty and nutritious vegetable dish, basically it's a combination of string beans and squash simmered in coconut milk. Add with pork or shrimp or crab make the recipe more delicious. This is another mouth-watering vegetable dish that is truly enjoyed by most Filipinos.
Estimated time of preparation: 10 minutes
Estimated time of cooking: 15-20 minutes
Good for 3-4 persons
Ingredients: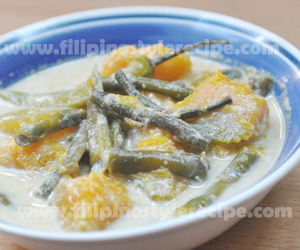 1/2 squash(kalabasa), peeled and cut into cubes
1 bundle string beans(sitaw), cut in 3 inches long.
1/ 4 kilo pork diced or 1 cup shrimp meat
3 tbsp fish sauce or 1 tbsp shrimp paste
1 can coconut milk
3 cloves garlic, minced
1 small onion, chopped
2 pieces green chili(siling haba)
cooking oil
salt and pepper to taste
Ingredients:
1. In a saucepan, heat cooking oil and fry pork meat until color turns to light brown.
2. In the same pan, saute onion and garlic. Season with fish sauce then mix well.
3. Pour in coconut milk and bring to a boil.
4. Add the squash and string beans then simmer until vegetables are half-tender. Add water if necessary.
5. Add green chili then season with salt and pepper according to taste.
6. Remove from heat then serve and enjoy.
Comments
comments
Powered by Facebook Comments