Filipino Style Recipe: beef pochero is another beef dish that commonly served by Filipinos. This is similar to pork pochero. Normally beef boiled and cooked with tomato sauce together with cardava bananas(saba), potatoes, green beans, cabbage and bok choy. This is a mouth-watering dish that my family loves so much.
Estimated time of preparation: 20 minutes
Estimated time of cooking: 50-70 minutes
Good for 4-6 persons
Ingredients: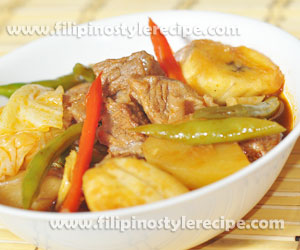 1 kilo beef, cut into cubes
200 grams tomato sauce
1/2 cup soy sauce
4 garlic gloves, chopped
1 small onion, quartered
4 tablespoons fish sauce(patis)
4 pieces banana(saba), sliced diagonally
1 small bundle, green beans, sliced diagonally
1 small chinese cabbage, quartered
salt and pepper to taste
cooking oil
1 bundle bok choy or pechay(optional)
1 red bell peppers, cut into stips(optional)
6 potatoes, cut into cubes(optional)
Procedures:
Part 1
1. In a pot, arrange beef with 1 liter of water. Bring to boil and simmer for an hour or until the beef is tender.
2. Remove the scum as it rises. Add more water if necessary. Pressure cooker takes less time.
Part 2(optional)
1. In a pan, heat oil and fry potatoes. Drain and set aside.
Part 3
1. In a same pan, saute garlic and onion, add in beef and stir cook until light brown.
2. Add tomato sauce, soy sauce and fish sauce then stir cook for 2-3 minutes.
3. Pour beef stock then simmer until 5 minutes, add more water as necessary.
4. Add potato and banana then simmer for 3 minutes.
5. Add other vegetables, cook for 3-5 minutes or until vegetables are cooked.
6. Season with salt and pepper according taste and bring to boil.
7. Transfer to serving plate, serve with steamed rice.
Comments
comments
Powered by Facebook Comments