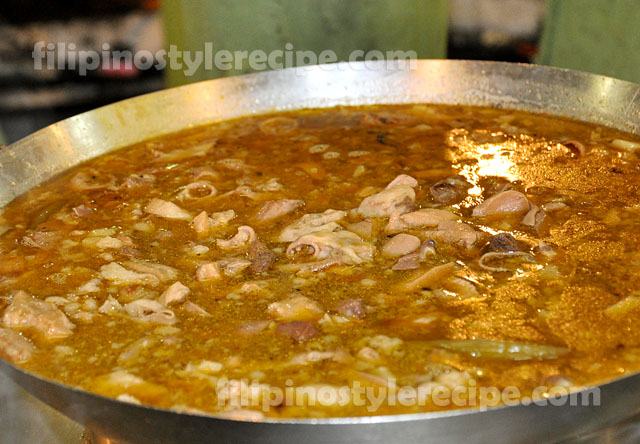 Ingredients:
1 kilo beef innards(tripe, intestines, liver, kidney)
1/2 cup diluted beef bile
2 thumb-sized ginger, cut into strips
1 head garlic, chopped
2 medium-sized onion, chopped
5 pieces green chili(siling haba)
8 pieces calamansi
fish sauce or salt and pepper to taste
Procedures:
Part 1
1. In a pot, boil enough water with 1 tablespoon salt.
2. Add beef innards and simmer for 30-50 minutes or until tender.
3. Drain and let it cool. Slice into small pieces then set aside.
Part 2
1. In a pot, heat oil and saute garlic, onion and ginger.
2. add beef innards and continue sauteing for 3 minutes.
3. Pour 4 cups of water and simmer for 10-15 minutes. Add water if needed.
4. Pour bile and simmer for another 5 minutes.
5. Add green chili, calamansi juice, salt and pepper. Simmer for 3 minutes.
6. Adjust seasoning according to taste. Remove from heat then serve hot.