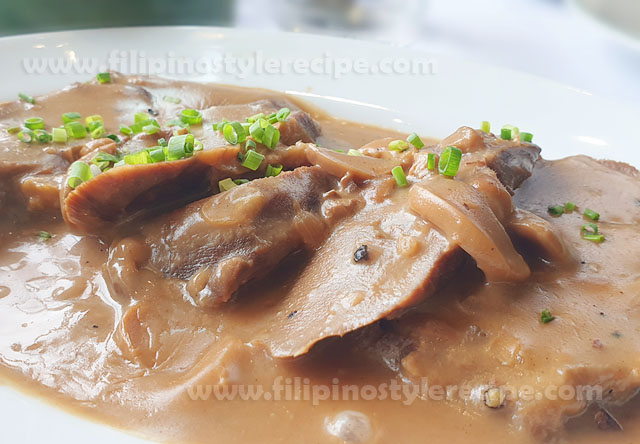 Ingredients:
1 kilo ox tongue(lengua)
1 can(large) cream of mushroom
1 can(small) sliced button mushrooms
4 cups water
1 piece beef cube
5 cloves garlic, minced
1 onion, chopped
salt and ground pepper to taste
1/4 cup cooking oil
2 tablespoons chopped spring onions
1 cup vinegar
1/4 cup rock salt
water for boiling the ox tongue
Procedures:
Part 1
1. In a bowl, mix vinegar and salt. Rub tongue with mixture to remove the shiny substance then rinse well.
2. In a pressure cooker, arrange ox tongue then pour enough water. Cover and bring to boil for 40 minutes.
3. Let it cool down and drain, scrape the tongue using knife to remove white surface. Slice into thin pieces.
Part 2
1. In a cooking pot, heat oil and saute onion and garlic.
2. Add ox tongue then cook for 2 minutes or until light brown.
3. Pour cream of mushroom and broth, stir. Cover and simmer for 40 minutes or until tongue is tender. Add more water if necessary.
4. Add mushrooms, salt and pepper then continue cooking over low heat until the sauce starts to thicken. Adjust seasoning according to taste.
5. Transfer to serving plate then sprinkle with spring onions. Serve.