Filipino Style Recipe: lengua estofada or lengua estofado is originally from Spanish that has become very popular in Filipino cuisine. Lengua estofada is a stewed ox tongue cooked in tomato sauce then serve with fried potatoes.
Estimated time of preparation: 15 minutes
Estimated time of cooking: 2 hours and 10 minutes
Good for 8 persons
Ingredients: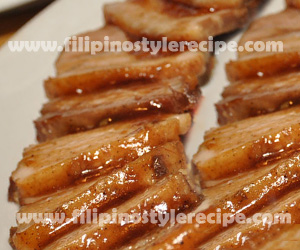 1 kilo ox tongue
2 large potato, peeled and sliced crosswise
3 cloves garlic, minced
1 onion, chopped
1 cup tomato paste
1 bay leaf
1/2 teaspoon peppercorns
1/4 cup oyster sauce
1 cup brown sugar
3 cups water
1/4 cooking oil
salt to taste
1/2 cup white wine(optional)
1 piece beef cube(optional)
Procedures:
Part 1
1. In a bowl, mix vinegar and salt. Rub tongue with mixture to remove the shiny substance then rinse well.
2. In a pot, pour water and arrange tongue. Bring to boil for 10 minutes.
3. Drain the tongue and scrape the white surface using knife. Rinse well.
Part 2
1. In a frying pan, heat oil and fry tongue until brown. Drain and set aside.
2. Fry potatoes. Drain and set aside.
Part 3
1. In a sauce pan, heat oil and saute garlic and onion.
2. Add tongue, 2 cups water, tomato paste, bay leaf, white wine, oyster sauce, sugar, peppercorns and salt.
3. Simmer for 2 hours or until tongue is tender. Add more water if necessary.
4. Adjust seasoning according to taste.
5. Take out the tongue and slice 1/2 inch diagonally.
6. Transfer to serving plate with fried potatoes. Pour the sauce on top. Serve
Comments
comments
Powered by Facebook Comments