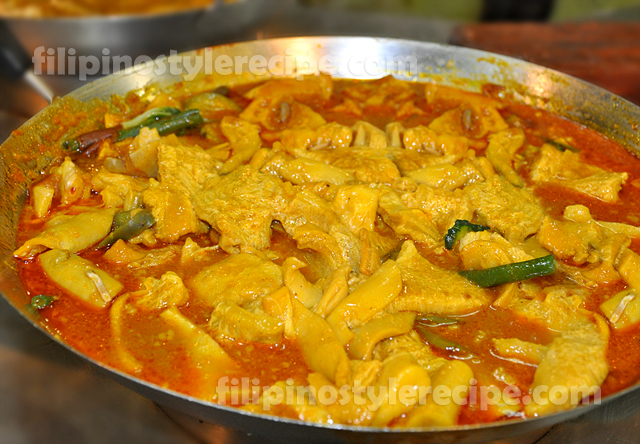 Ingredients:
1 kilo tripe
2 pieces onions,chopped
8 cups water, add more if needed
1 cup peanut butter
1/4 cup ground peanuts(optional)
1/4 cup cup rice flour
2 tablespoons annatto powder
4 pieces eggplant, slice in small pieces
1 bundle bok choy(pechay), trimmed
1 bunch of string beans(sitaw), cut in 2-inch long
1 banana heart(puso ng saging), sliced diagonally (optional)
salt and pepper to taste
sauteed shrimp paste(bagoong alamang)
Procedures:
Part 1
1. In a pressure cooker, cook ox tripe and onions in water for atleast 40 minutes or until tender.
Part 2
1. In a bowl, mix peanut butter, ground peanuts, rice flour and annatto powder with 1/2 cup of water.
2. Pour into pressure cooker then cook for another 5-10 minutes until the sauce is thick. Stir to blend well.
3. Adjust seasoning according to taste.
Part 3
1. While cooking the tripe, boil water in a separate pot then blanch vegetables for 3- 5 minutes. Do not over cook the vegetables. Drain.
Part 4
1. Transfer ox tripe kare kare into a bowl then arrange vegetables on the side.
2. Serve immediately with shrimp paste.
Comments
comments
Powered by Facebook Comments