Filipino Style Recipe: Kinamatisang Giniling na Baka or ground beef tomato stew is a another simple yet delicious tomato-based dish. This dish is consisting of ground beef cooked together with tomatoes and delicious spices.
Estimated time of preparation and cooking: 30-40 minutes
Good for 2-3 persons
Ingredients: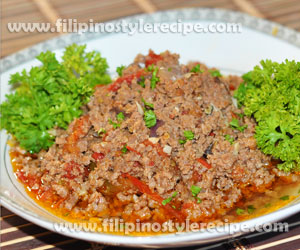 500 grams ground lean beef
4 large tomatoes, sliced or tomato sauce
1 small onion, chopped
4 cloves garlic, chopped
1 tablespoon fish sauce(patis)
1 beef bouillon (optional)
1 tablespoon sugar
salt and pepper to taste
Preparation
1. In a pot, combine all the ingredients then mix and crush the tomatoes using hand.
2. Bring to boil for 20 minutes or until meat is tender. Add water as needed.
3. Adjust seasoning with salt and fish sauce according to taste.
4. Remove from heat then transfer to serving plate. Garnish with parsley. Serve.
Comments
comments
Powered by Facebook Comments