Filipino Style Recipe: tinapa fried rice is another affordable rice dish made up of tinapa flakes, cooked rice and seasoning.
Estimated time of preparation and cooking: 20 minutes
Good for 4 servings
Ingredients: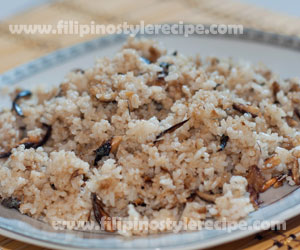 5 cups cooked rice or left-over rice
2 pieces fried or left-over tinapa(smoked fish), flakes and discard bones
2 tablespoons olive oil
3 gloves garlic, minced
salt and pepper to taste
chopped spring onion for garnishing(optional)
Procedures:
1. In a pan, heat oil then saute garlic.
2. Add tinapa flakes and stir cook for 3 minutes or until light brown.
3. Add cooked rice, salt and ground pepper then stir cook for 2-3 minutes. Mix evenly.
4. Transfer to serving plate and sprinkle with spring onion then serve hot!
(Thanks to Ms. Rochelle for sharing)
Comments
comments
Powered by Facebook Comments