Filipino Style Recipe: Crispy fried tahong or mussels is another easy way to cook mussels. This seafood dish is simple to prepare, boil mussels until the shells open. Remove the mussels the coat in flour mixture then fry until golden brown. This is usually serve with spicy vinegar as appetizer or finger-food(pulutan).
Estimated time of preparation: 8 minutes
Estimated time of cooking: 10-15 minutes
Good for 3-5 persons.
Ingredients: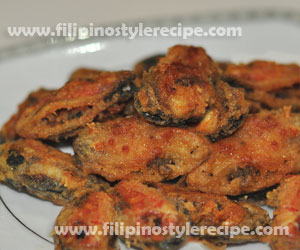 1 kilo mussels(tahong), cleaned with beard removed
1 thumb-sized ginger, sliced and pound
3/4 cup flour
1/4 cup cornstarch
1/4 teaspoon ginger powder
1/2 teaspoon salt
1/4 teaspoon ground pepper
oil for frying
Procedures:
Part 1
1. In a pan, place ginger and mussels with enough water. Bring to boil until the shells open.
2. Drain then remove the mussels from the shell. Set aside.
Part 2
1. In a bowl, mix flour, cornstarch, ginger powder, salt and pepper.
2. Dredge the mussels in flour mixture until well coated. Set aside.
Part 3
1. In a frying pan, heat oil then fry mussels until golden brown and crisp. Drain on paper towels.
2. Transfer to serving plate then serve with spicy vinegar.
Comments
comments
Powered by Facebook Comments