Filipino Style Recipe: pan fried rosemary chicken with potato wedges is another easy and simple chicken dish. First, the potato wedges fry into butter until golden brown. Then pan fried chicken seasoned with rosemary, salt and pepper until golden brown. I recommend this dish for those on diet and health conscious.
Estimated time of preparation: 10 minutes
Estimated time of cooking: 20-25 minutes
Ingredients: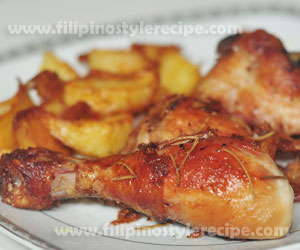 500 grams chicken, cut into serving pieces
4 pieces potatoes, peeled and cut into wedges
1 teaspoon fresh or dried rosemary
1/2 cup butter
salt and pepper to taste
Procedures:
Part 1
1. In a bowl, place chicken then season with rosemary, salt and pepper.
Part 2
1. In a pan, melt butter then fry potato wedges until golden brown. Drain and set aside.
2. In a same pan, Add butter then fry chicken until golden brown and tender. Drain.
3. Arrange fried rosemary chicken and potato wedges in a plate then serve.
Comments
comments
Powered by Facebook Comments