Filipino Style Recipe: Crispy fried kangkong or water spinach is a delicious and healthy snack dish. The water spinach coated in flour mixture then fry until light brown and crisp. Serve with your favorite dipping sauce. This dish should serve immediately after cooking to preserve the crunchiness of water spinach.
Ingredients: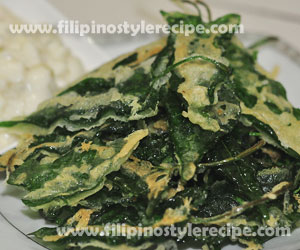 2 bunch fresh water spinach, trimmed and rinse
1 cup flour
1/2 cup water
a dash of salt
cooking oil for frying
Procedures:
Part 1
1. In a bowl, combine flour, salt and water but not too watery. Mix until well blended.
Part 2
1. Dip the water spinach leaves one by one in flour mixture until well coated.
2. Dip fry spinach for a 10 seconds or until light brown and crisp.
3. Drain on paper towels and repeat the procedures for remaining pieces. Serve immediately with sour cream dip.
Comments
comments
Powered by Facebook Comments