Filipino Style Recipe: Binagoongang pork adobo is easy and simple Filipino pork dish. This dish is another variety of pork adobo and binagoongang baboy. Normally the meat marinated then cooked in garlic, chili, shrimp paste, soy sauce, vinegar and sugar until tender and start to render oil.
Estimated time of preparation: 10 minutes(plus marinating time)
Estimated time of cooking: 50-60 minutes
Good for 3-4 persons
Ingredients: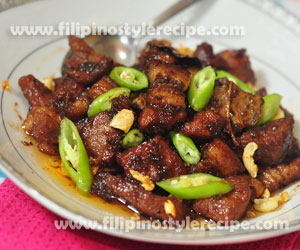 1 kilo pork belly or ribs, cut into serving pieces
3 tablespoons sauteed shrimp paste
6 gloves garlic, chopped
2 tomatoes, chopped
2 pieces bay leaves
1 teaspoon black peppercorn
1/4 cup soy sauce
1/4 cup vinegar
1/4 cup water
2 pieces green chili, chopped
1 tablespoon brown sugar
3 tablespoons cooking oil
1/2 cup soda(optional)
Procedures:
Part 1
1. Marinate pork in soy sauce, soda and sugar for 30 minutes.
Part 2
1. In a pan, heat oil then saute garlic and tomatoes until soft.
2. Add bay leaf, peppercorn and shrimp paste then continue sauteing for a minute.
3. Add marinated pork then stir cook for 3 minutes.
4. Add marinade, water and chili then simmer for 50 minutes or until tender. Add water if necessary.
5. Add vinegar then simmer for 5 minutes or until start to render oil.
6. Transfer to serving plate then garnish with remaining toasted garlic and chili slices. Serve with steamed rice.
Comments
comments
Powered by Facebook Comments