Filipino Style Recipe: stir fried beef and togue is another simple yet delicious dish. This dish is commonly serve in Chinese restaurants. The beef strips marinated in a blend of soy sauce, oyster sauce, garlic,  sugar, salt and pepper then cook and simmer together with sprouted mung beans until the meat is tender. This is one of my favorite dish and my family really loves it.
Estimated time of preparation: 10 minutes(plus marinating time)
Estimated time of cooking: 40-50 minutes
Good for 3-4 persons
Ingredients: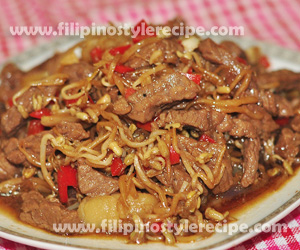 300 grams beef sirloin, sliced thinly into strips
2 cups togue(sprouted mung beans)
3 cloves garlic, minced
1 onion, chopped
1 red bell pepper, diced
1/4 teaspoon chili flakes(optional)
4 tablespoons cooking oil
Marinade:
1/4 cup soy sauce
1/4 cup oyster sauce
1/4 cup water or soda
4 tablespoons brown sugar
salt and pepper to taste
Procedures:
Part 1
1. Marinate beef in garlic, soy sauce, oyster sauce, sugar, salt and pepper for 2 hours or overnight inside the fridge.
Part 2
1. In a pan, heat oil then saute garlic, onion and bell pepper.
2. Add marinated beef, marinade, water then simmer in a low heat for 30 minutes or until tender. Add more water if necessary.
3. Season with sugar, salt and pepper according to taste.
4. Add sprouted mung beans, chili flakes then stir cook for 3 minutes.
5. Transfer to serving plate then serve hot with steamed rice.
Comments
comments
Powered by Facebook Comments