Filipino Style Recipe: braised beef and tendon is a popular beef dish which was originate in Chinese cuisine. Usually the beef and tendon cooked in beef stock, soy sauce, oyster sauce, sugar and star anise until tender. Some add dissolved cornstarch to thickens the sauce and commonly serve with noodles or as main dish.
Estimated time of preparation: 15 minutes
Estimated time of cooking: 2 hours and 40 minutes
Good for 5-6 persons
Ingredients: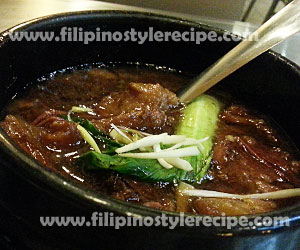 500 grams beef brisket
500 grams beef tendons
1 thumb-sized ginger, grated
6 cloves garlic, minced
2 small onions, chopped
7 cups beef stock
1/4 cup soy sauce
2 tablespoons oyster sauce
2 tablespoons brown sugar
2 pieces star anise
a bunch of bok choy, trimmed
3 stalks spring onions, chopped
3 tablespoons olive oil
fish sauce and pepper to taste
1/4 cup cooking wine(optional)
Procedures:
Part 1
1. In a big pot, boil water then blanch beef and tendon for 10 minutes. Drain and let it cool.
2. Cut beef and tendon to small cubes. Set aside.
Part 2
1. In a large wok, heat oil then stir fry beef and tendon until brown.
2. Pour cooking wine then toss and let it evaporate.
3. Remove everything from the wok and set aside.
Part 3
1. In a same wok, heat oil then saute ginger, garlic and onion.
2. Pour beef stock, soy sauce, oyster sauce, star anise and sugar then stir and bring to boil.
3. Add tendon then cover and simmer in a low heat for an hour.
4. Add beef then simmer for another hour or until tendon and beef are tender. Add more water if necessary.
5. Adjust seasoning according to taste then add bok choy, spring onions then simmer for 3 minutes.
6. Turn off the heat then transfer to serving bowl. Enjoy!
Notes:
1. You may add 3 teaspoons of cornstarch dissolved in 1/4 cup water to thicken the sauce.
Comments
comments
Powered by Facebook Comments