Filipino Style Recipe: Potato chip is a popular snack that consists of thin slices of potatoes. The chips deep fried until golden brown and crispy. The basic potato chips are seasoned with salt; other varieties are flavored in cheese, herbs, sour cream and other seasonings. This is commonly served as snack, appetizer or side dish.
Estimated time of preparation: 15 minutes(plus soaking time)
Estimated time of cooking: 15 minutes
Good for 4-6 servings
Ingredients: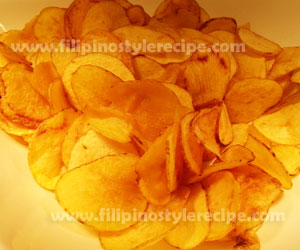 6 pieces potatoes, cleaned
cold water
salt to taste
cooking oil for frying
Procedures:
Part 1
1. In a large container, pour cold water then add a dash of salt. Stir until dissolve.
2. Using a slicer, slice the potatoes into thin slices then soak them in cold salted water for an hour.
3. Pat the potatoes very dry with paper towels.
Part 2
1. In a frying pan, heat oil then deep fry potatoes until golden brown and crispy.
2. Drain on paper towels then sprinkle with salt. Transfer to serving bowl then serve with your favorite dip.
Comments
comments
Powered by Facebook Comments