Filipino Style Recipe: Adobong puti or white adobo is another variety of Filipino adobo. The traditional adobo is made of pork or chicken meat cooked in a blend of soy sauce and vinegar together with spices. This version of adobo does not contain soy sauce instead we used salt or other seasoning to adjust the taste. Fry the meat until light brown then cook together with the sauce until tender.
Estimated time of preparation: 8-10 minutes
Estimated time of cooking: 30 minutes
Good for 3-4 persons
Ingredients: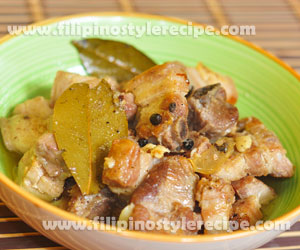 500 grams pork belly or liempo, cut into serving pieces
1/4 cup vinegar
1/2 cup water
10 cloves garlic, pounded
12 pieces peppercorns
3 pieces bay leaves
salt to taste
3 tablespoons cooking oil
Procedures:
Part 1
1. In a pot, arrange pork then add garlic, bay leaves, peppercorns, salt, vinegar and water.
2. Cover and simmer over medium heat for 20 minutes or until pork is tender. Add more water if necessary.
3. Remove the pork from the sauce and set aside.
Part 2
1. In a pan, heat oil then fry pork until light brown.
2. Put back the meat to the sauce then simmer until reduced in half.
3. Adjust seasoning according to taste then simmer for 2 minutes.
4. Remove from heat then transfer to serving bowl. Serve immediately with steamed rice.
Comments
comments
Powered by Facebook Comments