Filipino Style Recipe: Spicy Squid or pusit is an simple seafood dish consists of squid cook in tomato sauce, hot sauce and chili flakes until tender together with vegetables. Avoid to overcook the squid because it will become rubbery texture and tough.
Estimated time of preparation: 10 minutes
Estimated time of cooking: 5-8 minutes
Good for 3-4 persons
Ingredients: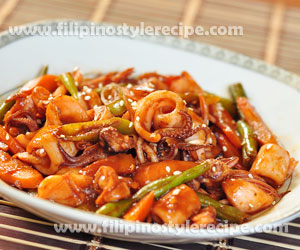 1/2 kilo fresh squid, cleaned and cut into serving pieces
1 carrots, sliced thinly
100 grams green beans, trimmed and sliced diagonally
100 grams tomato paste
a dash of chili flakes
2 teaspoons hot sauce
2 tablespoons oyster sauce
6 cloves garlic, minced
1 onion, chopped
1 thumb-sized ginger, chopped thinly
2 pieces green chili, sliced diagonally
1/2 teaspoon sesame seeds
2 teaspoons sesame oil
salt and pepper to taste
Procedures:
1. In a pan, heat sesame oil then saute garlic, onion and ginger.
2. Add carrots and green beans then stir fry for 2 minutes.
3. Add squid, oyster sauce, tomato sauce, chili flakes, and hot sauce then continue to stir fry for a few minutes.
4. Season with salt and pepper according to taste. Add green chili and sesame seeds.
5. Transfer to serving plate then serve with steamed rice.
Comments
comments
Powered by Facebook Comments