Filipino Style Recipe: Steamed Shrimp is a simple but tasty shrimp dish, the shrimps steamed in a salted water until cooked then serve with spicy vinegar.
Estimated time of preparation: 10 minutes
Estimated time of cooking: 5-7 minutes
Ingredients: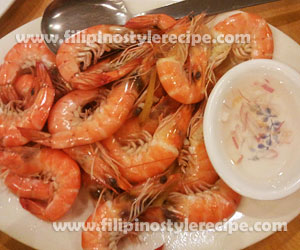 500 grams shrimp
1 tablespoon lemon juice
1 teaspoon salt
1/2 teaspoon ground pepper
1/2 teaspoon garlic powder
Procedures:
1. In a saucepan, boil enough water with salt and lemon juice.
2. Arrange shrimp in a steamer rack or wire colander then season with garlic powder, salt and ground pepper. (Do not allow water to come through the steamer rack.)
3. Steam the shrimp for 5 minutes or until color turns to pink.
4. Let it cool then serve with spicy vinegar.
Comments
comments
Powered by Facebook Comments