Filipino Style Recipe: Spicy Beef Noodle Soup is one of the popular noodle soup dish. The dish most sought after/during rainy weather because it's hot and spicy soup and tender beef gives warmth and comfort.
Ingredients: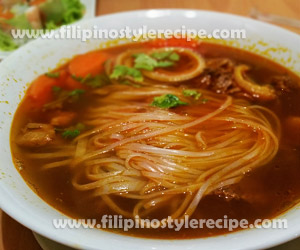 200 grams beef chuck, cut into 1/2 inch
110 grams rice noodles
1 liter beef stock
2 pieces Thai bird chili, seeded and chopped
1/2 teaspoon paprika powder
1/2 teaspoon cayenne powder
2 cloves garlic, minced
1 red onion, chopped
1 yellow onion, chopped
1 teaspoon minced ginger
1 small carrot, chopped
a bunch of baby bok choy, cleaned
small handful of fresh cilantro, chopped
2 tablespoons soy sauce
2 tablespoons brown sugar
1/2 cup annatto water
2 tablespoons vegetable oil
salt and pepper to taste
Procedures:
Part 1
1. In a cooking pot, heat oil then saute garlic, onions and ginger.
2. Add beef, chili, paprika and cayenne then stir fry sauteing until begins to brown.
3. Pour beef stock then reduce heat, cover and simmer for 80-90 minutes or until the meat is very tender. Add water if needed.
4. Add carrots then simmer for 8 minutes or until crisp-tender.
5. In a small bowl, dissolved sugar in soy sauce and annatto water then stir into soup.
6. Add baby bok choy then adjust seasoning with salt and pepper according to taste.
Part 2
1. In a large bowl, arrange rice noodles then pour the soup with beef and vegetables.
2. Wait for 2 minutes or until noodles is soft. Top with cilantro then serve immediately.
Comments
comments
Powered by Facebook Comments