Filipino Style Recipe: This chocolate chip cookies recipe gives you a double dose of chocolate goodness.
Ingredients: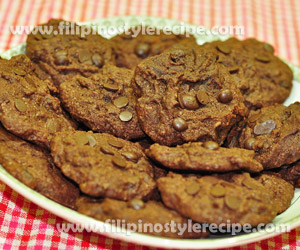 1 pack butter or margarine, softened
1 cup white sugar
1/2 cup brown sugar
2 eggs
2 teaspoon vanilla extract
2 cups all purpose flour
2/3 cup unsweetened cocoa powder
3/4 teaspoon baking soda
1 1/2 cup chocolate chips
Procedures:
Part 1
1. In a large mixing bowl, beat margarine and sugar until light and fluffy. Add eggs and vanilla extract and beat again until well combined.
2. In another bowl, combine flour, cocoa powder, and baking soda. Add into the batter and mix well blended. Fold in the chocolate chips.
3. Drop by rounded teaspoonfuls on ungreased cookie sheets.
4. Bake in preheated oven for 10 minutes at 350 degrees Farenheit.Remove from the oven and cool for 3-5 minutes before transferring to wire racks to cool completely.
Comments
comments
Powered by Facebook Comments