Filipino Style Recipe: Stir Fry Shrimp in Tomato Sauce is a simple yet mouth-watering seafood dish. The dish is consist of shrimp stir fry then cooked in tomato sauce.
Ingredients: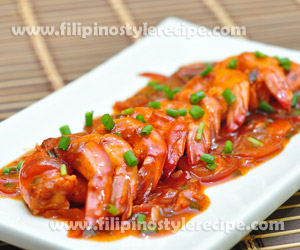 500 grams shrimp, head removed
1 onion, chopped
3 cloves garlic, minced
1 tomato, chopped
1 cup tomato sauce
1/2 cup broth
1/2 teaspoon sugar
3 tablespoons olive oil
salt and pepper to taste
Procedures:
Part 1
1. In a sauce pan, heat olive oil then saute garlic and onion.
2. Add shrimp then cook until bright pink. Remove from the pan and set aside.
Part 2
1. In a same pan, add tomato then cook until soft.
2. Add tomato sauce and broth then simmer until reduced.
3. Season with salt and pepper according to taste.
4. Add shrimp then cook for another minute.
5. Transfer to serving plate then serve with steamed rice.
Comments
comments
Powered by Facebook Comments