Ingredients: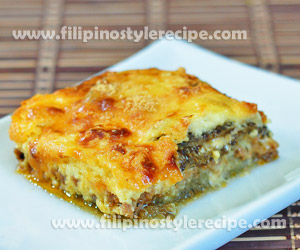 3 pieces eggplant,peeled and cut lengthwise 1/4 inch thick
Oil for frying
2 tablespoon butter
1 head onion, minced
4 cloves garlic, minced
1/2 kilo ground beef
1/4 teaspoon ground cinnamon
1/4 teaspoon ground nutmeg
1/2 teaspoon fine herbs (i used fried oregano and basil)
1/4 cup tomato sauce
1 egg yolk, beaten (optional)
1 egg white, beaten until stiff(optional)
2 tablespoon Parmesan cheese
For the White Sauce:
2 cups evaporated milk
1/4 cup butter
4 tablespoon all purpose flour
salt and pepper to taste
1 cup grated cheddar cheese
Procedures:
1. Heat oil in a pan and fry the eggplants until slightly browned.Remove eggplant from the pan and set aside on top of paper towel to remove excess oil.
2. In a large pan, melt butter. Saute garlic and onion until translucent. Add the beef and cook until light brown. Add the spices and herbs ; salt, pepper, cinnamon, nutmeg, dried basil, and dried oregano. Pour the tomato sauce and simmer for 15-20 minutes. Remove from heat.
3. To make the Bechamel sauce(white sauce), in a pan over medium heat, melt butter. Add the flour and whisk continuously until smooth and thick. Lower the heat and gradually add the milk while continuously stirring. Whisk until the sauce thickens. Season with salt and pepper.
(Optional: When the sauce is slightly cooled, add beaten egg yolk and whisk until well mixed. Fold in beaten egg whites until fully incorporated.)
4. In a 9×3 baking pan, arrange the fried eggplants in one layer. Top with the cooked beef then sprinkle with half of the cheddar cheese. Put another layer of the remaining eggplant over the cheese. Pour the Bechamel sauce on top then sprinkle with the remaining cheese. Sprinkle with Parmesan cheese.
5. Put in the oven and bake for 30-40 minutes at 350 degrees F.
Comments
comments
Powered by Facebook Comments