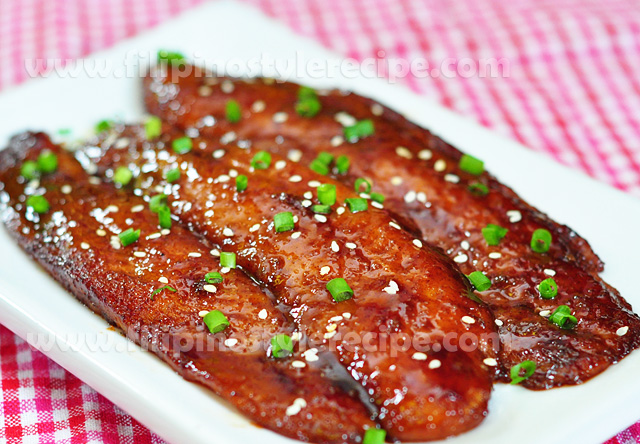 Ingredients:
2-3 pieces Cream Dory
3 tablespoons calamansi/lemon juice
salt and pepper to taste
toasted sesame seeds
spring onions
Teriyaki Sauce:
3 tablespoons teriyaki sauce
1 tablespoons oyster sauce
1 teaspoon brown sugar
2 tablespoons honey
1/2 teaspoon Spanish paprika
1/2 teaspoon ginger powder
1/2 teaspoon sesame oil
1/2 teaspoon cinnamon powder
Procedures:
Part 1
1. Marinate cream dory in calamansi juice for 30 minutes. Set aside.
2. In a bowl, combine teriyaki mixture then mix until blended.
Part 2
1. In a baking pan, lined with aluminum foil.
2. Season cream dory with salt and pepper then pour teriyaki sauce on top.
3. Bake in a preheated over 350 degrees Fahrenheit for 20 minutes or until cooked.
4. Transfer to serving plate then drizzle with teriyaki sauce.
5. Sprinkle with sesame seeds and spring onions. Serve.
Comments
comments
Powered by Facebook Comments