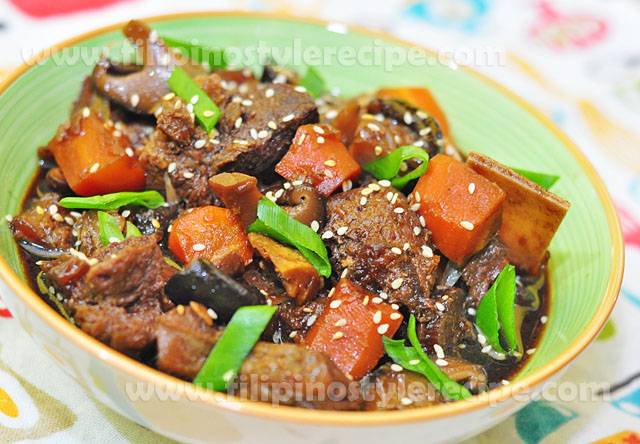 Ingredients:
Marinade:
1/2 cup soy sauce
2 tablespoon sugar
2 tablespoon honey
1 tablespoon sesame oil
1 medium onion, grated
4 cloves garlic, grated
1 teaspoon ginger, grated
1 teaspoon ground black pepper
2 tablespoon teriyaki sauce
1/2 Kilo caldereta cut beef or ribs
1 medium onion
1 thumb ginger, sliced into strips
4 cloves garlic
white part of the scallions, chopped into 2 inch length
1 can shiitake mushroom, liquid removed, and sliced into half
1 medium carrot cut into chunks
sesame seeds for garnish
Procedures:
1.In a large pot over medium heat, put 4 cups of water and bring to boil. Add the beef, scallions, onion, ginger, and garlic. Keep in boiling and cook for 30 minutes. Remove scum on the top.
2. Strain the stock and set aside.
3. To prepare the marinade, combine the soy sauce, sugar, honey, sesame oil, grated garlic, onion and ginger, pepper and teriyaki sauce. Add the beef and marinate for at least 30 minutes.
4. After marinating, add 3 cups of the stock to the marinade and cook over medium heat. Cover and simmer for at least 30 minutes or until the beef is tender.
5. Once the beef is tender add the mushroom and carrots and simmer uncovered for 15 minutes or until the sauce thickens. Transfer to serving bowl and season with sesame seeds and remaining scallion leaves.
Comments
comments
Powered by Facebook Comments