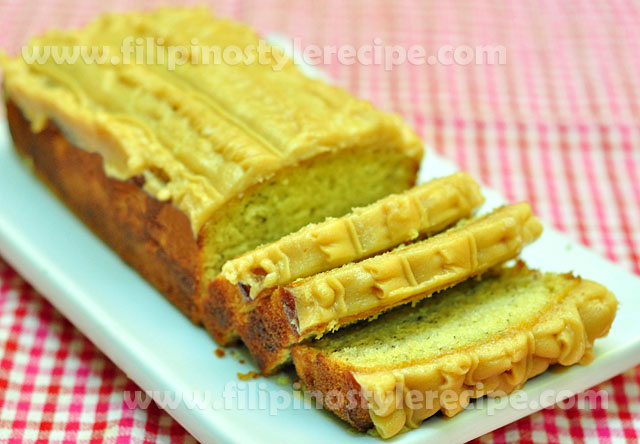 Ingredients:
4 ripe bananas, mashed
2 cups all purpose flour
1 teaspoon baking powder
1 teaspoon baking soda
1/2 teaspoon salt
2 tablespoon ground cinnamon
2 pieces eggs
1 cup white sugar
1/2 cup vegetable oil
2 tablespoon buttermilk dissolved in 1/2 cup water
2 tablespoon banana flavoring or vanilla extract
Dulce de Leche:
1/2 cup condensed milk
1 cup evaporated milk
1 piece egg yolk
1 tablespoon cornstarch
1/2 teaspoon vanilla
1 tablespoon butter
Procedures:
Part 1(banana bread)
1. In a bowl, combine the sugar, eggs, vegetable oil, buttermilk, and flavoring. Mix together until well combined. In another bowl, sift together the flour, baking powder, baking soda, salt and cinnamon. Add dry ingredients to the wet ingredients until well combined. Fold in the mashed banana.
2. Pour batter in prepared loaf pan until 3/4 full.
3. Bake in reheated oven at 150 degrees F for 40-45 minutes or until toothpick inserted at the middle comes out with few crumbs (not wet batter). Remove from oven and let cool. Run a knife around the pan to remove the bread. Set aside.
Part 2(dulce de leche):
1. In a saucepan combine the condensed milk, evaporated milk, egg yolk, and cornstarch. Mix until the egg and cornstarch as well blended.
2. Cook over medium heat while stirring consistently until mixture becomes thick around 20-30 minutes.
3. Remove from heat. Stir in vanilla and butter.Let it cool.
4. Top banana bread with dulce de leche. Serve and enjoy.