Filipino Style Recipe:When you think of healthy food, you would imagine it to be boring and tasteless. This chicken asparagus penne recipe is low calorie complete meal that is oh-so-yummy and very easy to prepare.
Ingredients: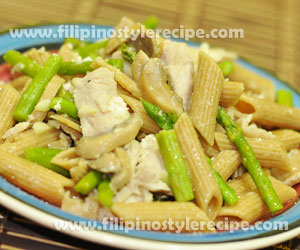 250 grams whole wheat penne pasta
1 can button mushroom
1/4 kilo chicken breast, cubed
olive oil
Salt and pepper to taste
3 cloves garlic
1/4 cup water
1 bunch asparagus, cut into 1 inch pieces
1/4 cup parmesan cheese
Procedures:
Part 1
1. Cook pasta according to package instruction. Drain then drizzle with olive oil. Set aside.
2. Warm olive oil in a large pan over medium heat. Saute garlic until transluscent. Add the mushrooms and cook for 3 minutes. Add the chicken and saute until lightly browned. Season with salt and pepper.
3. Pour the water on the chicken, cover and let it boil.Adjust the seasoning as desired.
4. Remove the cover and add the asparagus and cook until just tender around 5 to 10 minutes.
5. Add the cooked pasta, drizzle with olive oil and remove from heat. Sprinkle with parmesan cheese, stir and serve.