This recipe is a twist on the usual breaded chicken. Using desiccated coconut as crust gives the necessary crunch to this chicken recipe and a nice aroma.Dip with your favorite sauce such as sweet chili sauce or garlic mayo.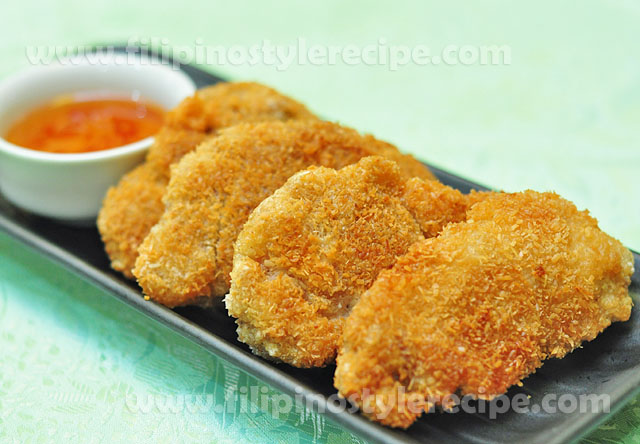 Ingredients:
1/2 kilo chicken breast fillet, halved or chicken tenders
1/4 cup cornstarch
1/2 teaspoon salt
1/4 teaspoon cayenne pepper
1/4 teaspoon black pepper, finely ground
2 egg whites
1 cup desiccated coconut
vegetable oil for deep frying
Procedures:
1. In a bowl, combine the cornstarch, salt, cayenne, and black pepper,
2. In a separate bowl, beat egg whites until frothy.
3. In another bowl, put the desiccated coconut.
4. Pound chicken fillet to tenderize. For each piece of chicken, dredge in cornstarch mixture, shake off excess. Next, dip into the egg white. Then, press each side into the coconut to coat.
5. Heat oil (deep enough to cover the chicken fillet) into a frying pan over medium heat. Fry the chicken until cooked, around 5 minutes on each side. Remove the chicken and drain excess oil. Serve with sweet chili sauce.